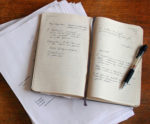 I love stories. I've listened for good quotes, collected striking details and shared them my whole career:  Ash on a volunteer fireman's glasses after his house burst into flames. The sour-sweet smell of death in an abandoned car. Author James Ellroy, saying his books "leave you reamed, steamed, dry­-cleaned, tied, dyed, swept to the side, screwed, blued, tattooed…"
I have a knack for building rapport and developing well-researched, engaging stories. As a journalist, I've earned more than a half-dozen writing and reporting awards, including two statewide excellence awards from the Florida Press Club.
My reporting and essays have appeared in publications such as The Guardian, The Tampa Bay Times, The Tampa Tribune, Bright Wall Dark Room, The Script Lab, Final Draft's blog, Signature Reads (formerly known as Word and Film), Woman's World, Ladies' Home Journal, Time Out New York, and Poynter.org. I'm also the author of the ebook Quicklet on 'The Closer' Season 1 (Hyperink, 2012), a guide to the groundbreaking crime series starring Kyra Sedgwick on TNT.
As a ghostwriter, I'm skilled at making complexity accessible. I've created content for businesses on topics as varied as health, fitness, and finance.