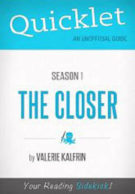 TNT's The Closer introduced TV mystery fans to the prickly and intense Brenda Leigh Johnson, a brilliant CIA-trained interrogator recruited by LAPD Assistant Chief Will Pope to head a new homicide squad for high-profile cases. Johnson's thin veneer of Southern charm often cracks as she hones in on a suspect, but she gets results: "She's not Miss Congeniality, I'm aware of that, but she is a closer," Pope says.
A ratings smash for TNT, The Closer won fans thanks to its twisty plots and the portrayal of Brenda by Kyra Sedgwick, showing a woman confident in her investigative skills but awkward at personal relationships. It also paved the way for the debut of other original cable-TV series during the summer-rerun doldrums — and shows with strong female characters over 40, such as TNT's Saving Grace with Holly Hunter and Hawthorne with Jada Pinkett Smith, plus Damages with Glenn Close on FX.
This informative guide (Hyperink: San Francisco, 2012), available on Amazon.com for the Kindle and other e-readers, goes inside the initial season through detailed episode summaries, character bios, and trivia.
Here's an excerpt from the opening section:
"I never bluff . . . I just express my optimism forcefully." — Deputy Chief Brenda Leigh Johnson, pilot episode
Naked and bloody, the bludgeoned and shot corpse on the bedroom floor of a swanky Los Angeles house had the detectives' attention — until a woman with bedraggled blonde hair and a cozy brown cardigan spoke.
"Looks like love," she drawled from behind a surgical mask to stanch the odor of decomposition. She nodded at introductions, tucked her hair into a ponytail and crouched down to examine the body. "Mind if I jump right in here, doctor?"
Two minutes into the series premiere of The Closer, Deputy Police Chief Brenda Leigh Johnson turned colleagues' heads through her sharp dialogue, pointed questions, and forceful demeanor — coated in reflexive if insincere politeness that vanished in a snap.
"No need to be a bitch about it," one character bristled as she took control of the crime scene.
"If I liked being called a bitch to my face, I'd still be married," Brenda replied.
By the end of the pilot and The Closer's initial summer season, Brenda had captivated audiences and cable television networks too. About 5.3 million households watched the June 13, 2005, premiere on TNT, according to according to data from Nielsen Media Research. More than 6.3 million viewers tuned in for the season finale, making The Closer "ad-supported cable's top original series for the year to date" among adults ages 25 to 54, among other demographics, this research states.
The ratings convinced cable networks that viewers weren't content with reruns in the off-season. They also encouraged the launch of other shows with complex female characters over 40. In the wake of The Closer came premieres of TNT's Saving Grace with Holly Hunter and Hawthorne with Jada Pinkett Smith, plus Damages with Glenn Close on FX.
Played by Kyra Sedgwick, who was nominated for primetime Emmy and Golden Globe awards that season, Brenda is a CIA-trained interrogator transplanted from her native Atlanta to Los Angeles by a former lover, now her boss. He wants her to head a new "priority murder squad" for high-profile cases, and he's confident in her abilities to close cases, in spite of her abrasive style: "She's not Miss Congeniality; I'm aware of that, but she is a closer," he says in the pilot.
Throughout the season, Brenda chafes against prejudice and office politics from being both a woman and a high-ranking officer promoted from outside the department. She reminded Sedgwick and several reviewers of Detective Superintendent Jane Tennison from the British series Prime Suspect but with "mint-julep charm" that disarms people until she unleashes evidence and righteous indignation.
"They are not expecting it. I think she does it on purpose, so that they'll underestimate her so that they'll spill!" Sedgwick said of her character's tics.
Although the plot twists varied in complexity, Brenda's depth and contradictions distinguished her as "all woman" in "a medium that tends to prefer pretty girls." Brenda might be clumsy in personal relationships and struggle with indulging her sweet tooth, but she likes being in charge and doesn't hide her intelligence.
---
Find the book here: http://www.amazon.com/Quicklet-Closer-Season-1-ebook/dp/B0083MFP16