By Valerie Kalfrin
The Tampa Tribune, March 3, 2016
Curtis Hixon Waterfront Park and neighboring Kiley Gardens in downtown Tampa turn into a plein-air art gallery this weekend complete with chalk artists, a "carmada" of transformed vehicles, and about 250 artists selling their work and competing for cash prizes.
The Gasparilla Festival of the Arts marks its 46th year as a juried competition with prizes drawing top-notch talent — and offering emerging artists the opportunity to launch their careers. Roughly 95 of the professional artists whose work was accepted for the festival are from Florida, and about 30 are from the Tampa Bay area, organizers said.
Expect to see paintings, photography, sculpture, printmaking, watercolors, drawings, jewelry, fiber art, digital art, and works in ceramic, glass, mixed media, and wood. Admission is free. About 100,000 people are expected to attend.
"You can count on seeing a wide range of artwork and typically some of the best weather in our season," said Ashly Anderson, president of the festival's board of directors. "Our goal is that artists are supported and come back every year. … We focus most of our initiatives on making sure that artists are paid and recognized."
The artists compete for $75,000 in awards, with the top prize a $15,000 Best of Show award. Brian J. Lang, curator of the corporate art collection at BNY Mellon, is the festival's juror. Sponsors include the City of Tampa, Raymond James Financial, the Tampa Museum of Art and the Arts Council of Hillsborough County.
In addition to potential sales from the public, the festival has a "robust" purchase-award program where individuals or companies can promise to buy artwork, Anderson said. As of the week before the festival, organizers had more than $20,000 worth of such pledges.
The winning works will be showcased (and perhaps sold) Saturday evening at galaRE, a ticketed, catered event at the Tampa Museum of Art featuring food by the Capital Grille and bossa nova music.
Having a respected judge and the chance for prize money is exciting to artists like Jeannie Maddox, 69, of Dothan, Alabama, whose giclée on canvas "Fifth Avenue" is the featured image in the festival's advertising this year. Maddox specializes in photorealist paintings that capture the distortions of swimmers in water and reflections in glass. She has participated in the Gasparilla Festival of the Arts annually since the late 1970s.
"The work usually is exceptional," she said. "You walk around and sometimes you think to yourself, 'I've got to step up my game!' "
The festival has its roots in a juried art exhibit at the Florida State Fair, which ruffled feathers in 1969 with paintings of nudes. Local art enthusiasts loved the diverse artwork that the exhibit attracted but realized that the informal fair wasn't the best venue. They hatched the idea of a sidewalk art festival in the city with distinguished jurors and substantial cash prizes, and in 1971, the "Little Art Show That Could" was born.
Maddox, who has sold pieces to Burdines and the president of Macy's, won an award at the festival one year presented by photorealist sculptor Duane Hanson. Although the weather that year was stormy — "they put us in the covered parking-lot area" — the sense of acceptance was as thrilling as when someone buys her art, she said.
"It confirms the direction of your work," Maddox said.
The festival already has passed that feeling onto 15 people through its Emerging Artists Program. These budding artists — students or those with alternate careers — were selected through a jury process to participate in the festival at no cost. They compete for a $1,500 Emerging Artist Award.
"We actually provide them a stipend and a place in our show, and give them their first venue, their first chance to break out into the art world," Anderson said.
The festival wouldn't be complete without the interactive experience that art creates. Ten specially commissioned artists will bring eight-foot by eight-foot chalk drawings to life under the eaves of the Tampa Museum of Art throughout the weekend.
In Kiley Gardens, artists will transform vehicles into mobile artwork as part of "Carmada."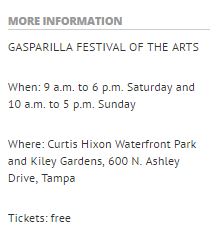 Children also will have a special activity area there and an Art Collectors in Training shopping spot, where they can purchase artwork for $5 to $10 donated by the festival's artists. All proceeds from the children's purchases benefit the Children's Cancer Center.
The artists love to see what appeals to these young buyers, who seem to appreciate choosing artwork on their own, Anderson said.
"Hopefully, they'll thinking fondly about art and how art makes them feel, and then when they become adults, they'll support the arts," she said.
---
From http://www.tbo.com/events-tampa-bay/curtis-hixon-park-becomes-massive-gallery-this-weekend-for-gasparilla-arts-festival-20160303/