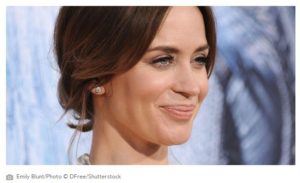 By Valerie Kalfrin
Signature Reads, May 20, 2016
Emily Blunt has the wit to steal the Prada heels out from under anyone, but the mercurial glint in her blue eyes intrigues us long after a film is over. In one moment, it suggests mirth or mischief, then like quicksilver can turn to intelligence, seduction, or malevolence.
"I have sly eyes," she's said. "When I was in school, they always said, 'Emily can never be elected Head Girl [class representative] because you never know what she's thinking.'"
Blunt, thirty-three, can be a comedic scene stealer, as she was in 2006's "The Devil Wears Prada," based on the bestseller by Lauren Weisberger, but she's often noted for ambivalence and subtlety. We're eager to see her bring a drunk divorcee who thinks – and is afraid to discover – what she knows about a missing woman to unsettling life in director Tate Taylor's adaptation of Paula Hawkins's best-selling novel, The Girl on the Train, out in October. The film's trailer already has us riveted.
One of four children born to a London lawyer and a former actress turned teacher, Blunt at seventeen acted opposite Dame Judi Dench in the 2001 stage play The Royal Family, earning her an Evening Standard theater award for best newcomer. She made her onscreen debut soon afterward as Isolde in the 2003 TV movie "Warrior Queen" with Alex Kingston, about the Celtic tribal leader who led an uprising against the Roman Empire.
Whether in a period piece such as 2009's "The Young Victoria" or a futuristic scenario such as "The Adjustment Bureau" (2011) or Looper (2012), Blunt relishes creating an enigma. "I learned very early on to reel everything in," she's said. "Sometimes you just shouldn't do anything because the camera sees everything – like the smallest flick of your eye, and it catches it and it reads as something. The performances I enjoy are the ones that are hard to read or ambiguous or left-of-center because it makes you look closer, and that's what humans are like – quite mysterious creatures, hard to pinpoint."
Blunt's air of mystery should mesh well with Mary Poppins. She's slated to portray P.L. Travers's famous nanny in director Rob Marshall's take on Travers's work, currently in pre-production.
To tide us over until we see her as the nanny and the girl en route, we've ferreted out fourteen fun facts about this inscrutable charmer.
She began acting at age twelve to deal with a stammer. "Somehow, being somebody else and shedding my own abilities – or lack thereof – meant that it just went away," she's said.
Her first date with husband John Krasinski was at a gun range, his idea of blowing it in a big way because, as he says, "I was so sure that I would never end up with her." They wed in 2010 and are expecting their second child.
The armored suit her character Rita wears in 2014's "Edge of Tomorrow," based on the manga and novel "All You Need Is Kill," weighed about eighty-five pounds. Although unprepared for the weight, Blunt has good upper-body strength, as she could do the planche move that Tom Cruise's character sees her perform without assistance.
Acting as a high-fashion magazine assistant in "The Devil Wears Prada" evolved into tight connections with her co-stars. She calls Meryl Streep her mentor, Anne Hathaway her best friend, and Stanley Tucci her brother-in-law. In 2012, he married her sister, Felicity Blunt, a literary agent.
She won a 2007 Golden Globe for best actress in a supporting role as the troubled child of a political spin-doctor for the TV movie "Gideon's Daughter," co-starring Bill Nighy and Miranda Richardson. She's been nominated for four acting Globes since for "The Devil Wears Prada," "The Young Victoria," 2011's "Salmon Fishing in the Yemen" (based on Paul Torday's novel), and 2014's "Into the Woods."
She excelled at playing the cello, sports, and singing as a youth. She sings briefly at the end of the song "Me and Mrs. Jones" on Michael Bublé's album "Call Me Irresponsible," recorded during their relationship.
She's circled the Marvel movie universe. She was cast as Black Widow in 2010's "Iron Man 2" but dropped out because of a scheduling conflict with the Jack Black comedy "Gulliver's Travels." She also was considered for the role of British agent Peggy Carter that went to Hayley Atwell in 2011's "Captain America: The First Avenger."
She's played two queens of England: Queen Victoria in "The Young Victoria" and Catherine Howard, the fifth wife of Henry VIII in the 2003 film of the same name.
Her theatrical film debut, the 2004 coming-of-age film "My Summer of Love," based on the novel by Helen Cross, features her first onscreen love scene.
She's described herself as "a freak for cooking shows" and said she can watch the Food Network all day. "Just thinking about it, I'm getting all giddy!"
She lists "Jaws" (1975) and "Kramer vs. Kramer" (1979) among her favorite movies.
She's said she took the snarky dialogue and gesture she uses toward Hathaway in "The Devil Wears Prada" from a mother yelling at her child on the street. "Yeah, I'm hearing this," her character says, miming a chattering mouth with her hand before closing it. "And I want to hear this."
She has pointed a gun at co-star Benicio Del Toro twice, in 2010's "The Wolfman" and in 2015's "Sicario."
Being a damsel in distress holds no appeal. "If I'm gonna do an action film, I want to see some action," she's said. "If I'm, like, tied to a tree somewhere, saying, 'Help me!' – that's never been of interest."
---
From http://www.signature-reads.com/2016/05/jaws-guns-and-family-ties-14-fun-emily-blunt-facts/